Lake Loop Bicycle Tour
To explore cities like Udaipur, Cycling Tour is the best option. The tour will start in the morning after breakfast. You will be picked from the hotel by our executive; our executive will take you to the start point of our tour.
Our cycling track covers beautiful locations of the countryside which gives you eye-pleasing views. On our way, we will come across a point which gives a mesmerizing view of a famous Sajjangarh, which is also known as Monsoon Palace.
As we will proceed, we will come across a beautiful lake called Badi, which was built in the 16th century. The Badi Lake is surrounded by the Aravali Mountain range.
After the lake visit, we will pass through many small villages; all the villages which fall under this route have many farmlands. Passing through these villages will give you a beautiful and soothing experience.
We will then reach Badi village, here we will have our refreshments with a local family. We will get to interact with the family. After refreshment, we will make our way through small villages to reach the famous Fatehsagar lake of Udaipur. Fathesagar lake is the most beautiful lake of Udaipur, cycling around Fatehsagar will give you a pleasing and worth remembering pleasure.
After cycling around Fatehsagar Lake, we will end our cycling tour.
Duration: - 2 To 3 Hours
Tour Starts: Near 7.00 AM
Tour can also be started in evening if the weather is suitable.
Inclusions
Mineral water
Refreshment
English speaking guide
First aid kit
Giant mountain bikes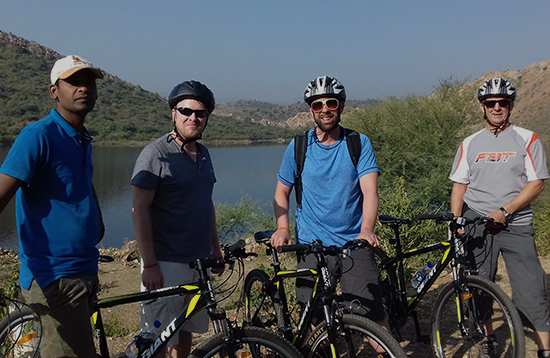 Rural Bicycle Tour
A rural Bicycle Tour is the best choice to see the sights of Indian rural life and interact with the people living in the villages. The tour will start soon after breakfast. You will be picked up by our guide from the hotel, and then you will be taken to the starting point of bicycling tour.
As we continue with our cycling, we will come across many small villages. These villages are rich in cultural and natural diversity. You can interact with the villagers and get to know about their lives and their work. Interaction with the villagers will give you a closer look into the lives of people living in rural areas. You will also get to know about their agricultural practices.
Our tour will end at the Badi village. Here in Badi village, we will have our lunch with a local family. You can interact and spend some time with the local family.
After lunch, you will be taken back to the hotel.
Duration: - 4 Hours
Inclusions
Lunch
English speaking guide
First aid kit
Giant mountain bikes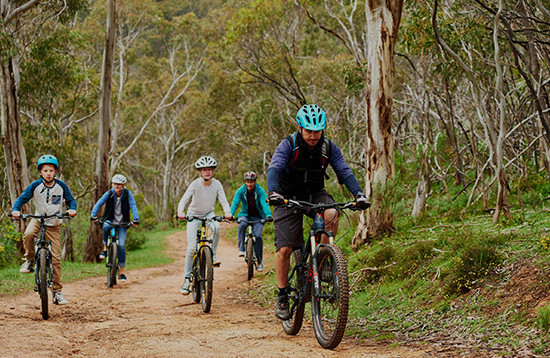 Kumbhalgarh To Delwara ( Devigarh ) Bicycle tour
Early in the morning, after breakfast, we will go the starting point of our Bicycle Tour. We will pass through the local market of Kelwara village. Our route will give us eye-pleasing views of the Aravali mountain range. We will come across many small villages and farms along our way.
Our route comprises of many small rivers and lakes. Our route will provide us many mesmerizing natural views and will put us across cultural diversities.
We will also come across many small and tribal villages, where will get to communicate with them, and indulge in their activities.
We will also come across some schools of rural areas, where we will get a chance to interact with students.
In Kumbhalgarh to Delwara in route, there are many beautiful temples. As we will proceed we will come across the famous Saas- Bahu temple, the temple is surrounded by a lake and stands as a beautiful landmark of the area. At the Saas- Bahu temple we will end our tour.
Details of the tour
Cycling route from Kumbhalgarh to Delwara
Distance - 80 Km
Distance to be covered on Bicycle -50-60 Km
Terrain - Moderate
Bike Tour in Udaipur, Rajasthan
Udaipur and its surroundings are one of the Best places for taking Bike Tours in Rajasthan.
The Aravali Mountain range and breathtaking views give an unforgettable experience. In recent years Bike Tour in Udaipur, Kumbhalgarh, Ranakpur, and Ghanerao are making into the wish lists of tourists visiting Rajasthan.
These three places have favorable routes for Bike Tours. Bike Tours to these places are full of wonderful experiences, as Kumbhalgarh is home to a magnificent fort and wildlife reserve, whereas Ranakpur is known for its Jain Temples, and Ghanerao is known for its historical importance.